Apply Now
Submission of the pre-admission form
Apply Now
School tour, meeting with the admissions officer.
Placement test
Secure a place by submitting required documents and making the initial payments.
Welcome to the Paragon ISC family
Our Admission officers will guide you through the whole process.
For any further information email: admissions@paragonisc.edu.kh
Curriculum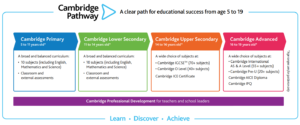 We offer an exclusive blend of national and international curricula to meet the diverse needs of our student body. The Bilingual program adopts both the Khmer National Curriculum and the Cambridge curriculum. The International program adopts the CAIE – Cambridge curriculum, leading our students seamlessly from Primary through Secondary and Pre-University years. The students from the International program benefit from recognised programs such as Cambridge Primary, Cambridge Lower Secondary, Cambridge Upper Secondary (IGCSE), and Cambridge Advanced Levels (AS/A Levels).
Cambridge Lower Secondary is typically for learners aged 11 to 14 years. Students cover Maths, Science, Arts, Languages and Social Studies subjects in both curricula. As a programme developed with consistent standards that are externally benchmarked across tens of thousands of students, it enables reliable structured reporting to parents about the performance of their children, which has validity beyond the school. The programme also enables the school to ensure that students are properly prepared for the demands of the IGCSE courses in these subjects.
The International General Certificate of Secondary Education (IGCSE) is a two-year program designed for 14 to 16-year-old students. IGCSEs are established qualifications that keep up with educational trends and developments and are ideal preparation for higher-level courses such as AS and A-Levels. Students will attend this program in Grades 9-10 at our school. Upon completion of the two-year course, our students have the option of sitting IGCSE exams that will be held in May/June or November. IGCSE courses are renowned for developing essential educational skills, knowledge, and understanding.
General Certificate of Education Advanced Level (A-Level) is the internationally recognized 'gold standard' of Cambridge qualifications. It is highly sought after by universities within the European Union and worldwide. A-Level courses are highly specialized, and students typically take three subjects over two years. Course content is divided into two categories: AS syllabus content (which is expected to be covered during the first half of the course) and A2 syllabus content (which is expected to be covered during the second half of the course).
As part of our curriculum, we incorporate students' experiences, cultures, and perspectives; specifically, we focus on Cambodian culture and its contribution to the heritage of civilization, and internationalism with a primary emphasis on creating open-minded pupils. We strive to provide our students with goals like international perspectives, self-confidence, and conscientiousness to enable them to function as leaders and team members in societies around the world. We inspire our students to chase their dreams and get admitted to the best universities in the world. The alumni network has been our pride, and we continue to build strong bonds between alumni, students, and parents.
Learning Support
Paragon International School focuses on the individual well-being of students. It doesn't believe in a "one size fits all" approach, so teachers are highly encouraged to differentiate their instruction, curriculum, & materials to promote meaningful learning for every student.
Providing learning support for students with diverse learning needs is one of the vital components to ensure the quality of the school. In this regard, the Learning Support Department works in collaboration with all stakeholders of the school – teachers, teaching assistance, parents and the wider community to ensure that the individual needs of each referred student are met. One of the many services provided by the department is in-house training for teachers and teaching assistants on the topics of understanding learning differences and giving the right type of intervention. In this respect, the department has been organizing awareness campaigns, such as "Dyslexia Awareness Week" and "Understanding ADHD" that turned into annual events for teachers, parents and students.
Members in the learning support department try to stay updated with the latest interventions and strategies to support students with special needs. All members of the department have taken courses on understanding special educational needs, such as Dyslexia, ADHD, Autism and what approaches work best in teaching students with such conditions.
Additionally, Paragon International School is one of the member schools of SENIAC Local Chapter (Special Educational Needs in Asia) and benefits from the resources of the wider community to give evidence-based interventions. The representatives of more than 20 International schools have attended the PD that was held in North Bridge International School to exchange the latest intervention approaches.
Extra-Curricular Activities
At Paragon ISC, we strive to provide students with a diverse range of opportunities that encourage academic excellence, the development of social and intellectual skills, and the pursuit of personal fulfillment. A few examples of co-curricular activities are STEM festivals, Subject Weeks, Spelling Bees, Quiz Shows, Culture and Education Festivals, PTCs, and subject-based field trips.
As part of our curriculum, we also offer a variety of extra-curricular activities to our students. These include fun and challenging activities to promote teamwork skills and confidence, moral values, and character development. Just a few examples: after-school clubs or meetings with outside organizations, community services, fundraising events, charity week, field trips, weekend activities with homerooms, International Holidays celebration, Halloween celebration, and many more.
Clubs
Students can join clubs at Paragon ISC Secondary Campus. These clubs can be either academic or interest-based. Here is a list of clubs available to students:
Hip Hop, Classical Ballet, Comics Creation, Portrait Charcoal / Silhouette Painting, Portrait Painting, Coding with Scratch, Coding with Python, Robotics, Intro. to Artificial Intelligence, Young Web Developer, Young Game Developer, Animation, Digital Art, Video / Film Making, Senior Kidspreneur, Table Tennis, Horse Riding, Debate, Creative Writing, Chess, Foreign Language (Korean), Foreign Language (Japanese)
XXI Century Skills
Our curricular and extra-curricular activities allow students to:
– integrate knowledge and skills from the domains of STEM (Science, Technology, Engineering and Mathematics), Languages and Social Science.
– apply their knowledge and skills to real-life scenarios, including proposing solutions to identified problems.
– acquire lifelong skills to become successful individuals in the future.
Parent-School Communication
Homeroom teacher
Homeroom teachers guide students throughout the school year by supporting and inspiring them in their academics and character development. They serve as a vital link between parents and students to address any concerns regarding academics, social well-being, and administrative matters.
Parents will receive invitations to Parent Telegram Groups and contact them for any request.
SIS APP – Student Information System
The ParagonISC APP has been developed as a downloadable application for both Android and IOS platforms. Parents and students are provided with usernames that enable them to:
Receive notifications about their child's attendance;
Follow up on academic performance;
Check the medical, library and behaviour records;
Kept posted on the latest news;
Receive information about remaining tuition fees;
Have access to other resourceful materials.
PTC
Teachers and parents gather twice a year for Parent-Teacher Conferences (PTCs) in order to discuss student achievements and inform parents about school programs and events. This provides a forum for teachers, parents, and, at times, students to discuss academics and social development.
During PTCs, parents have the opportunity to ask questions and get clarity over any concerns or queries they may have about their child's education or the school's administrative process.
It's a time as well for teachers to share relevant information about the student and calibrate expectations. A Parent-Teacher Conference is one of many ways that students, parents, and schools are committed to the success and welfare of their students.
Safety and Security
We place the safety and security of our students at the forefront of everything we do. All of our students and staff are regularly trained so that they are well prepared and can respond accordingly to any dangerous situations. Fire and lockdown drills are conducted every term to ensure that our students and staff are prepared to respond to emergencies.
Additionally, Paragon ISC has contracted with a private security company for security guards to ensure the safety of the school environment. The security guards monitor who enters and leaves the school daily, as well as monitor security camera footage.
Students who have lost their items should report to the Secondary Campus Manager for assistance in the recovery of the lost item.
Safeguarding and Child Protection
We require our teachers and support staff to participate in Child Protection training that focuses on protecting children from abuse, exploitation, and neglect. It promotes the health and welfare of children and young people helping them to grow up in a safe and supportive environment.
Student Wellbeing
As a Paragon ISC student, your well-being is of paramount importance to us, and we strive to ensure you are nurtured in safe and effective conditions. If you have any concerns, please contact your homeroom or welfare coordinator. You can also report it anonymously using online platforms.
National and International Achievements
Cambridge Exams
Every year many Paragon ISC Students achieve outstanding results in CAIE examinations, and these results take them to the top universities around the globe. Students are positively and rigorously prepared for Checkpoint, IGCSE, AS&A level examinations and our teaching method is designed to challenge them to the maximum degree. This spirit is being passed from generation to generation and the inspiration of Paragon ISC's motto echoes in all their minds. "Learn today for a better tomorrow!"
National Examinations (A achievers)
There are many students of Paragon ISC who earned high scores from the Baccalaureat of National Examination as excellence at grade A had 10 students and very good at grade B had 16 students. Many others got grades C and D. Only six students got E.
Paragon ISC's National Curriculum team has been working on improving student learning progress since the beginning of the academic year. Our team uses a wide range of strategies to motivate and support students as they learn. As a result, the students perform better than their expectations. Each month, students completed questionnaires containing quantitative and qualitative questions that were analyzed, and they had a formative assessment throughout the classroom participation by subject teachers.
The national academic coordinator has gathered quantitative and qualitative data from all subject teachers to develop solutions and implement teaching techniques that will support our students in the classroom.
At the end of each term, the National curriculum coordinator has met with parents to discuss students' abilities and our expectations for future achievement from the National examination. Furthermore, our student's parents strongly cooperate with the National Curriculum perspective team to support children's self-learning at home.
As a school, we always organize preparation courses at the end of the school year to support all students' achievement, e.g. We prepared a class for students who are expected to get grade A from the National examination, and strongly support differentiation levels of students with small size groups (10 students/group). The course is held until the nearest exam date, and students will sit for mock exams at least one or two times based on the course's length, to evaluate their learning progress and achievement expectation.
We are always proud of our Paragon ISC students, for their motivation to succeed, hard work, and excellent patience and perseverance.
Olympiads and Competitions 
International Competitions are the arena for our students to challenge students from around the globe. Apart from the tremendous eye-opening exposure, such international competitions present the students with the chance to develop their talents, showcase their work and compete in an international arena and win medals and trophies.
Some international contests:
STEM
Genius in USA
Kangaroo Math olympiad
World Robotics Olympiad
World Scholars Cup
InfoMatrix in Romania
Paragon ISC students olympiad and competition statistics:
Gold medals- 101
Silver medals – 186
Bronze medals – 102
Sports Events
Students are encouraged to participate in different sports at school as it supports students' physical and mental development. The school takes part in competitions between international schools and participates in sports events organized in Thailand, LAO and Portugal etc. Paragon ISC students have demonstrated competence not only in academics but in sports too; every year, numerous trophies are won in a variety of sports events.
English Proficiency - IELTS
Students have the opportunity to be prepared for the well-known language proficiency test right at the school and receive the required score for their university admissions.
College Counselling
The College Counselor of the school offers individualized counselling sessions to students to help them prepare for college or university admissions and to ensure they are meeting all requirements to enter a college or university upon graduation.
University Admissions
Our school inspires students to pursue and achieve their dreams through Primary to Secondary education with an exclusive blend of the National and International Cambridge curriculum and assisting them with additional co-curricular provisions such as Learning Support, Coaching, Alumni Association and College Counseling services. These guide our students through the competitive admission process to the best universities around the world.
Students at Paragon ISC are motivated to begin thinking about their future career as early as Grade 10, with coordinated sessions between their College Counselor, Homeroom Teachers, and Parents/Guardians to consider students' aptitude and decide what opportunities they wish to pursue. Whereas students in Grade 11 and 12 receive crafted consultations and group seminars to help them hone and perfect the best possible university application. The wide range of services offered is the prep package ranging from IELTS preparation sessions, application workshops, and admissions correspondence to name a few.
Rest assured that the Paragon ISC team works tirelessly to ensure that our students have the greatest possible opportunity of showcasing their accomplishments and gaining acceptance to the institution of their choice.
With an exceptionally high University acceptance rate our 2021 Graduates have received placements at the world's most competitive tertiary institutions such as The University of Toronto, The University of Manchester, King's College London, The University of Bristol, and Monash University. Our diverse student body are pursuing a wide range of majors from Law to Economics; Commerce to Accounting; and Natural Science to Medicine.
We are proud of our graduates who have received offers from some of the world's prestigious universities in the USA, New Zealand, Australia, Canada, and the UK.
Some outstanding admissions from 2020-2021 AY:
– Rithichan Chhorn – The University of Manchester, The University of Toronto, King's College London, The University of Bristol
– Rothlara Poch – The University of Sydney, UNSW Sydney, University of Technology Sydney
– Sour Kim – Monash University
– Tepnorrak Long – Monash University
– Jing Jing Ly – Auckland University of Technology
– Elaine Chhun – University of Melbourne, Monash University, The University of Queensland
– Sovannaroth King – University of Melbourne, Monash University, The University of Sydney
– Sokdiamant Chan – Monash University, The University of Queensland, The Australian National University, University of Melbourne
– Chan Piseth Ear – University of Technology Sydney
– Hongngoun Lim – University of Technology Sydney
– Vatanak Nongyongdy – University of Technology Sydney
– Vannvireak Keo – The University of Bristol, The University of Edinburgh
– Kim Huong La – Monash University
English Language Support
Paragon ISC offers an English as a Second Language program for students who need support with the English language. Through our accelerated approach, we develop students' abilities to communicate effectively through speaking, reading, listening, and writing at the highest level of competence. English Language classes are taught by certified teachers. To facilitate assimilation, ESL students who have obtained at least 80% at the end of the quarter assessment are promoted to mainstream classes.
Foreign Languages
As part of our mission, we also promote the study of other Asian or European languages in the school. For those who want to learn Chinese or French, elective foreign language courses are offered.
Scholarship Opportunities
Paragon ISC offers a number of scholarships each year to the following students who are going to continue their studies at the Paragon ISC campuses:
3 students from Grade 6 who scored 6.0 in English, Mathematics and Science in Primary Checkpoint Exams. – 2000 USD
3 students from Grade 8 who scored 6.0 in English, Mathematics and Science in Lower Secondary Checkpoint Science Exams. – 2000 USD
Grade 10 students who scored at least five A/A* in five different IGCSE examinations – 2000 USD
Grade 11 or 12 students who scored three A/A* in AS/A level examinations – 2000 USD
Grade 12 students who receive Grade-A in national BAC II examinations – 500 USD
Grade 9 students who came in Top 100 in national Smart Student examinations – 100% Full scholarship
Grade 6 students who came Top 3 in Grade 6 Scholarship Examination – 100% Full scholarship
Scholarship from Chairwoman for children of Public Servants – 10% to 50%
Tuition Fee
The tuition fee amount varies depending on the grade level, enrollment date and other factors including scholarships, sibling discounts, alumni discounts etc.
To get clear and detailed information about the fees please contact the campus finance office.
Phone number: (023) 21 40 40
Mobile/Telegram: (012) 44 77 44
Email: andriana@paragonisc.edu.kh
Payment options
The tuition fees can be paid fully or in installments.
Full payment
100 USD discount is applicable for full payment before the due date of 1st installment.
Payment in installments:
1st installment due date 31 August 2022
2nd installment due date 31 October 2022
3rd installment due date 31 December 2022
4th installment due date 28 February 2023
Discounts
Enrollment fee discount: There is a 50% enrollment fee discount until 7 May 2022.
Sibling discount: 15 per cent on tuition fee for the second child, 20 per cent on tuition fee for the third and each further child. This rule applies to all campuses, Kindergarten, Primary, Secondary and University. The discount is applied to the latest enrolled child(ren). No other discount is offered under any circumstances!
Alumnus discount: Paragon (formerly Zaman) Alumnus will receive a 10 per cent discount on the tuition fee annually for the first child. The sibling discount applies to the remaining children. No other discount is offered under any circumstances!
Referral Discount
For each successful referral from an existing Paragon ISC family, the school will reward the referrer parent/guardian with a 500$ discount per referred child enrolled against the following academic year's tuition fees for his/her own child/children. If your child studies at Grade 12 and there is no unpaid fee left for this AY the amount will be paid in cash once the referred child successfully finishes the enrollment process. Additionally, the school will reward your friends who join us with a 250$ discount for use on their first tuition fee billing for each child admitted under this scheme.
Transportation
For transportation to and from the School Campus, Paragon ISC coordinates for the services of medium-sized passenger buses. The school buses (and their drivers) are privately contracted by Paragon ISC. The school coordinates and supervises the buses for the convenience of Paragon ISC families. Students are fetched from home and picked to the school before lessons start. The bus fee depends on the location of the student and can be made term based or in a full form payment.
There is a large parking lot in front of the school for vehicles. Special security guard assigned to help drivers and control the traffic every morning and afternoon.