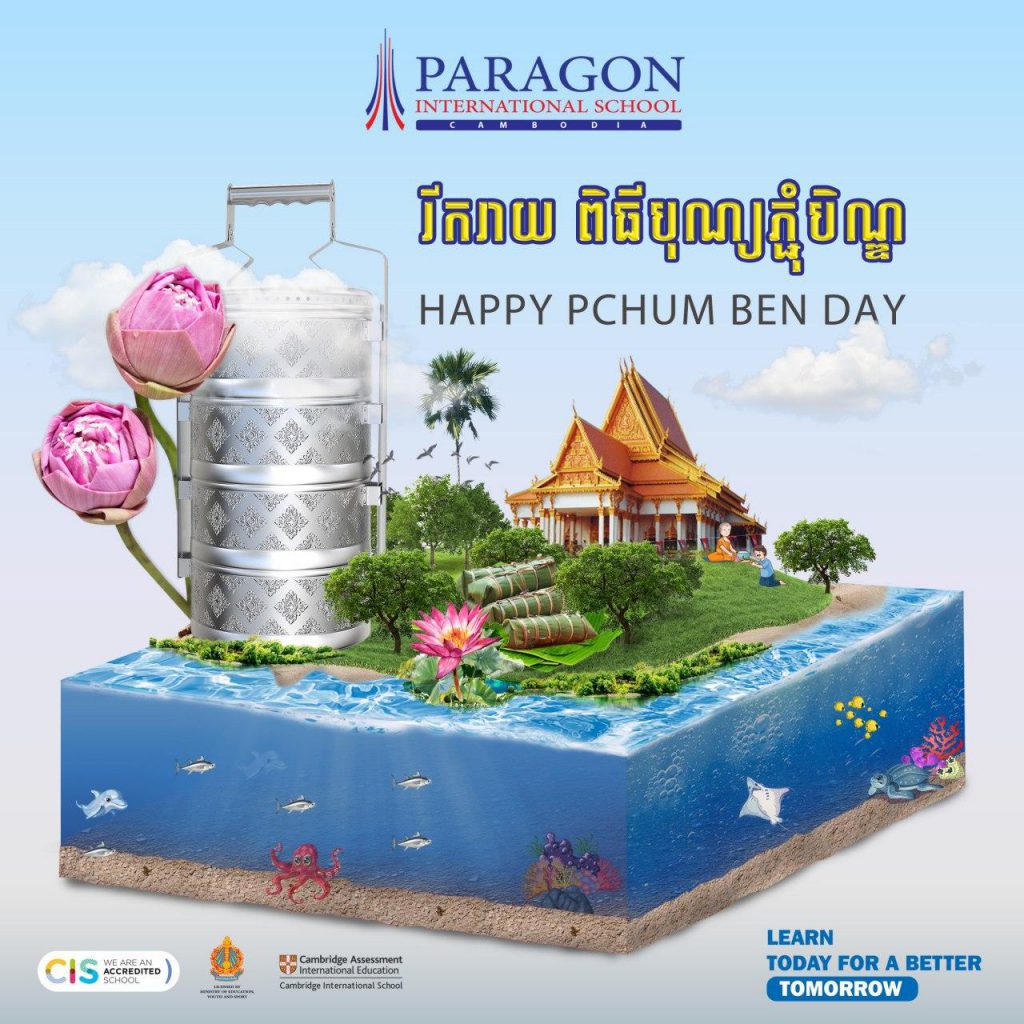 គោរពជូនមហាគ្រួសារផារ៉ាហ្គនទាំងអស់!
ដោយជាចំណែកមួយនៅក្នុងសង្គមកម្ពុជា សាលារៀនអន្តរជាតិផារ៉ាហ្គន តែងតែចូលរួមគោរព និងអបអរបុណ្យជាតិ និងបុណ្យសាសនានានានៅក្នុងព្រះរាជាណាចក្រកម្ពុជា ដែលបងប្អូនប្រជាពលរដ្ឋខ្មែរយើងគោរពប្រតិបត្តិ។ យើងខ្ញុំតែងតែគាំទ្រឱ្យសិស្សានុសិស្សចូលរួមអបអរ យល់ដឹង និងគោរពឱ្យតម្លៃសម្បត្តិវប្បធម៌ជាតិជានិច្ច ហើយឆ្លៀតក្នុងឱកាសពិធីបុណ្យភ្ជុំបិណ្ឌនេះដែរ យើងខ្ញុំសូមគោរពជូនពរពុកម៉ែ បងប្អូន មាតាបិតា អ្នកគ្រូ លោកគ្រូ បុគ្គលិក និងប្អូនៗសិស្សានុសិស្សទាំងអស់ សូមប្រកបដោយជ័យមង្គល និងវិបុលសុខគ្រប់ប្រការ កុំបីឃ្លៀងឃ្លាតឡើយ។
បញ្ជាក់ ៖ សូមជម្រាបជូនថា សាលានឹងឈប់សម្រាកដើម្បីអបអរពិធីបុណ្យភ្ជុំបិណ្ឌ ចាប់ពីថ្ងៃពុធ ទី១៦ រហូតដល់ថ្ងៃសៅរ៍ ទី១៩ ខែកញ្ញា។ ចូលរៀន/ចូលធ្វើការវិញ នៅថ្ងៃចន្ទ ទី២១ ខែកញ្ញា។
Dear Paragon ISC Community,
As a part of Cambodian society, Paragon ISC honors and celebrates the national days of significance and religious ceremonies observed in the Kingdom. We support our students in honoring, understanding, and respecting their cultural heritage, and wish our whole Paragon family a happy and safe Pchum Ben.
We would like to advise all students and parents, teachers, and staff that the school will be closed from Wednesday 16th September to Saturday 19th September for the observance of Pchum Ben.
Classes will resume on Monday, 21st September.
#
paragonisc
#
cambodia
????????
#
phnompenh
#
internationalschools
#
cis
#
happypchumben
#
abettertomorrow
#
staysafe