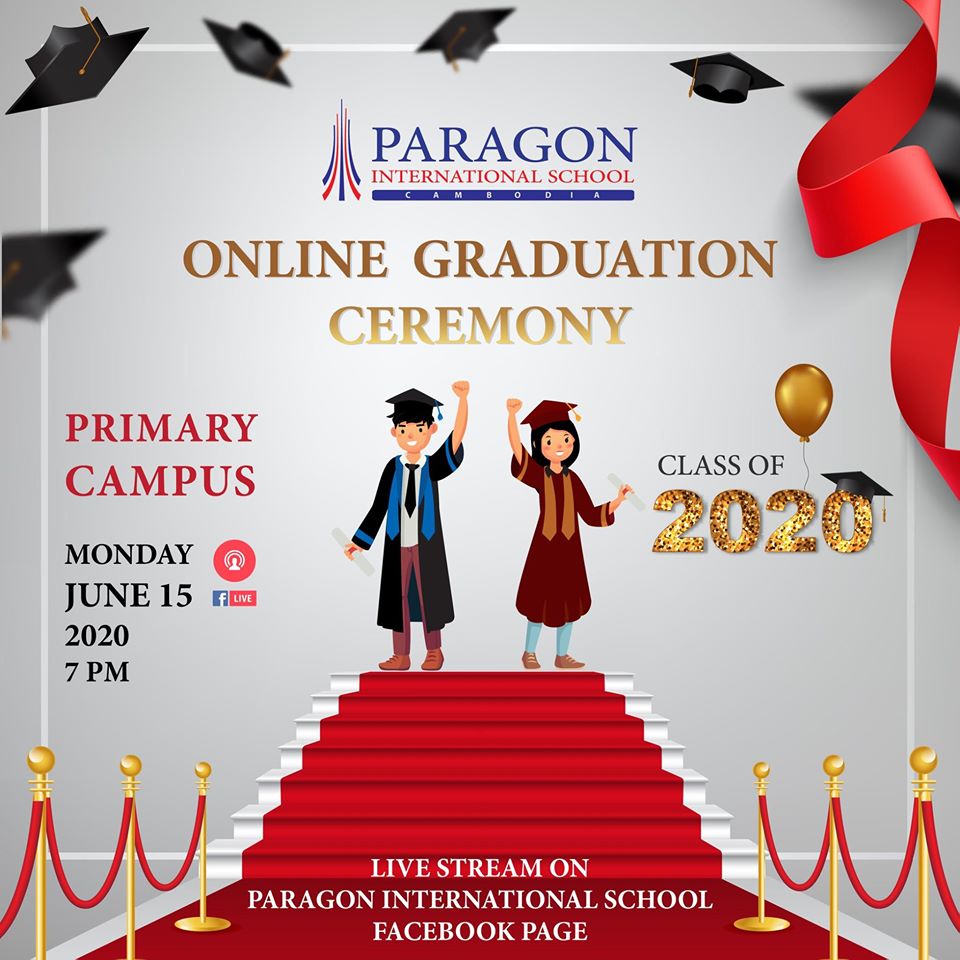 ដោយសារតែបញ្ហាវីរុសកូវីដ១៩ សាលារៀនអន្តរជាតិផារ៉ាហ្គន ក៏ដូចជាគ្រឹះស្ថានអប់រំដទៃទៀត គឺសុទ្ធតែផ្ដល់អាទិភាព និងថែរក្សាសុខុមាលភាពរបស់សហគមន៍ខ្លួនជានិច្ច ហើយសាលាយើងខ្ញុំបានរៀបចំព្រឹត្តិការណ៍ផ្សេងៗតាមរយៈប្រព័ន្ធអនឡាញ។
ពិធីប្រគល់សញ្ញាបត្របញ្ចប់ការសិក្សារបស់ប្អូនៗថ្នាក់បឋមសិក្សាគឺជាព្រឹត្តិការណ៍មួយដ៏សំខាន់ និងមិនអាចអាក់ខានបានឡើយ។ យើងខ្ញុំមានមោទនភាពចំពោះសមិទ្ធផលលើការសិក្សារបស់ប្អូនៗ និងការលូតលាស់ទាំងផ្នែករាងកាយ បញ្ញា និងស្មារតី ហើយយើងខ្ញុំសូមជូនពរឱ្យពួកគាត់បន្តជោគជ័យទៅមុខជានិច្ច ចេះសិក្សាបែបស្រាវជ្រាវ និងកាន់តែស្គាល់អំពីខ្លួនឯង នៅពេលដែលពួកគាត់ត្រូវសិក្សានៅថ្នាក់វិទ្យាល័យ។
អាស្រ័យហេតុដូចនេះ សូមលោកអ្នកមេត្តាអញ្ជើញចូលរួមពិធីប្រគល់សញ្ញាបត្របញ្ចប់ការសិក្សារបស់ប្អូនៗតាមរយៈប្រព័ន្ធអនឡាញ នៅលើទំព័រហ្វេសប៊ុករបស់សាលា នៅថ្ងៃចន្ទទី១៥ ខែមិថុនា ឆ្នាំ២០២០ វេលាម៉ោង ៧ យប់។
សូមអបអរប្អូនៗសិស្សានុសិស្ស និងមាតាបិតាទាំងអស់! វិថីថ្មីដើម្បីកសាងសមិទ្ធផលដ៏អស្ចារ្យកំពុងរង់ចាំអ្នក!
Due to ongoing concerns regarding COVID-19, Paragon ISC, as with other educational institutes, is prioritizing and safeguarding its community's wellbeing and has been hosting events online.
The Graduation ceremony of our Primary Campus students is a big deal and an event not to be missed. We are very proud of our students' accomplishments, how much they have grown physically, emotionally and mentally and wish them the very best as they move forward and make more discoveries in learning and about themselves in Secondary School.
So, join us for a virtual Graduation celebration of our grade 6 students on Monday, 15th June at 7 pm for the FB live stream.
Congratulations to all parents and graduates! A new journey of wonderful achievements awaits you!
#
paragonisc
#
cambodia
????????
#
phnompenh
#
internationalschools
#
accredited
#
abettertomorrow
#
primarycampus
#
virtualgraduation
#
onlineceremony
#
thankyou
#
staysafe