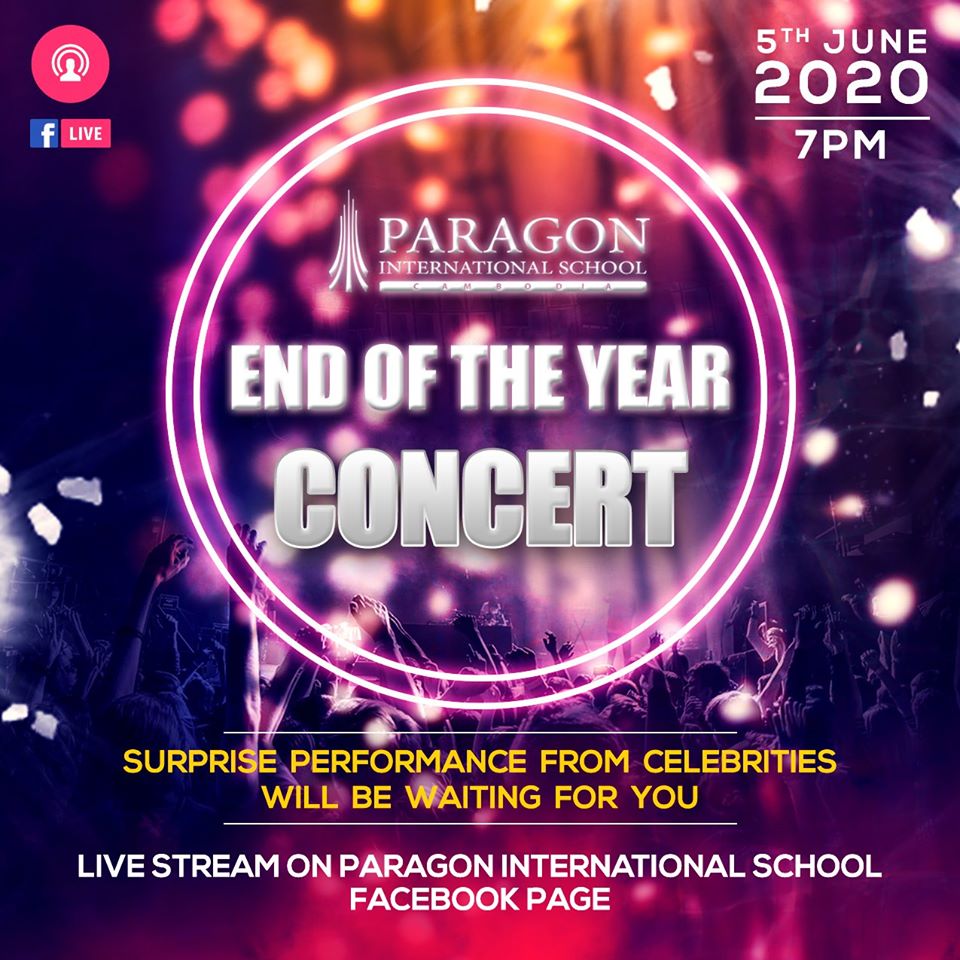 "បញ្ហាប្រឈមថ្មីតម្រូវឱ្យមានដំណោះស្រាយថ្មីផងដែរ"
ការចូលរួមសំដែងសិល្បៈនៅដំណាច់ខែឧសភាប្រចាំឆ្នាំរបស់អ្នកគ្រូ-លោកគ្រូ និងប្អូនៗសិស្សានុសិស្សយើងបានក្លាយជាវប្បធម៌មួយរួចទៅហើយ។ ប៉ុន្តែដោយសារវីរុសកូវីដ-១៩ យើងពុំអាចធ្វើការសំដែងសិល្បៈដោយផ្ទាល់បានឡើយនៅឆ្នាំនេះ។
យ៉ាងណាមិញ យើងខ្ញុំនឹងចូលរួមអបអរចំពោះសមិទ្ធផលសិក្សារបស់ប្អូនៗសិស្សានុសិស្ស ក៏ដូចជាសាទរចំពោះការខិតខំប្រឹងប្រែងរបស់ពួកគាត់កន្លងមក មិនថានៅពេលនេះឡើយ។ ដូចនេះ សាលាសម្រេចរៀបចំកម្មវិធីប្រគំតន្រ្តី តាមរយៈប្រព័ន្ធអនឡាញ!
ដើម្បីចូលរួមរីករាយនឹងការបញ្ចប់ឆ្នាំសិក្សា២០១៩-២០២០ អ្នកគ្រូ-លោកគ្រូ និងប្អូនៗសិស្សានុសិស្សពីវិទ្យាល័យអន្តរជាតិផារ៉ាហ្គន នឹងធ្វើការប្រគំតន្រ្តីអនឡាញនេះ។
ដូចបានជម្រាបជូននេះ សូមគោរពអញ្ជើញលោកអ្នក ចូលរួមការប្រគំតន្រ្តីដំណាច់ឆ្នាំសិក្សារបស់យើងខ្ញុំ ដែលនឹងប្រព្រឹត្តទៅនៅថ្ងៃសុក្រ ទី៥ ខែមិថុនា ឆ្នាំ២០២០ វេលាម៉ោង ៧ យប់ នៅលើទំព័រហ្វេសប៊ុករបស់សាលារៀនអន្តរជាតិផារ៉ាហ្គន។
"Modern challenges require modern solutions"
It has been a tradition every year, at the end of May to wrap up the school year with celebrative performances by teachers and students alike. Due to COVID-19, we are, unfortunately, unable to do that this year.
However, we would still like to commemorate our students' achievements and express our appreciation of their effort during these trying times – by taking the show online!
To share the joy as we say goodbye to the 2019 -2020 academic year, Paragon ISC Secondary Campus teachers and students have put together an online musical showpiece.
So, join us for the End of the Year concert on Friday, 5th June 2020 at 7pm for a live stream concert on our ParagonISC FB page.
#
paragonisc
#
cambodia
????????
#
phnompenh
#
internationalschools
#
accredited
#
abettertomorrow
#
liveconsert
#
staysafe