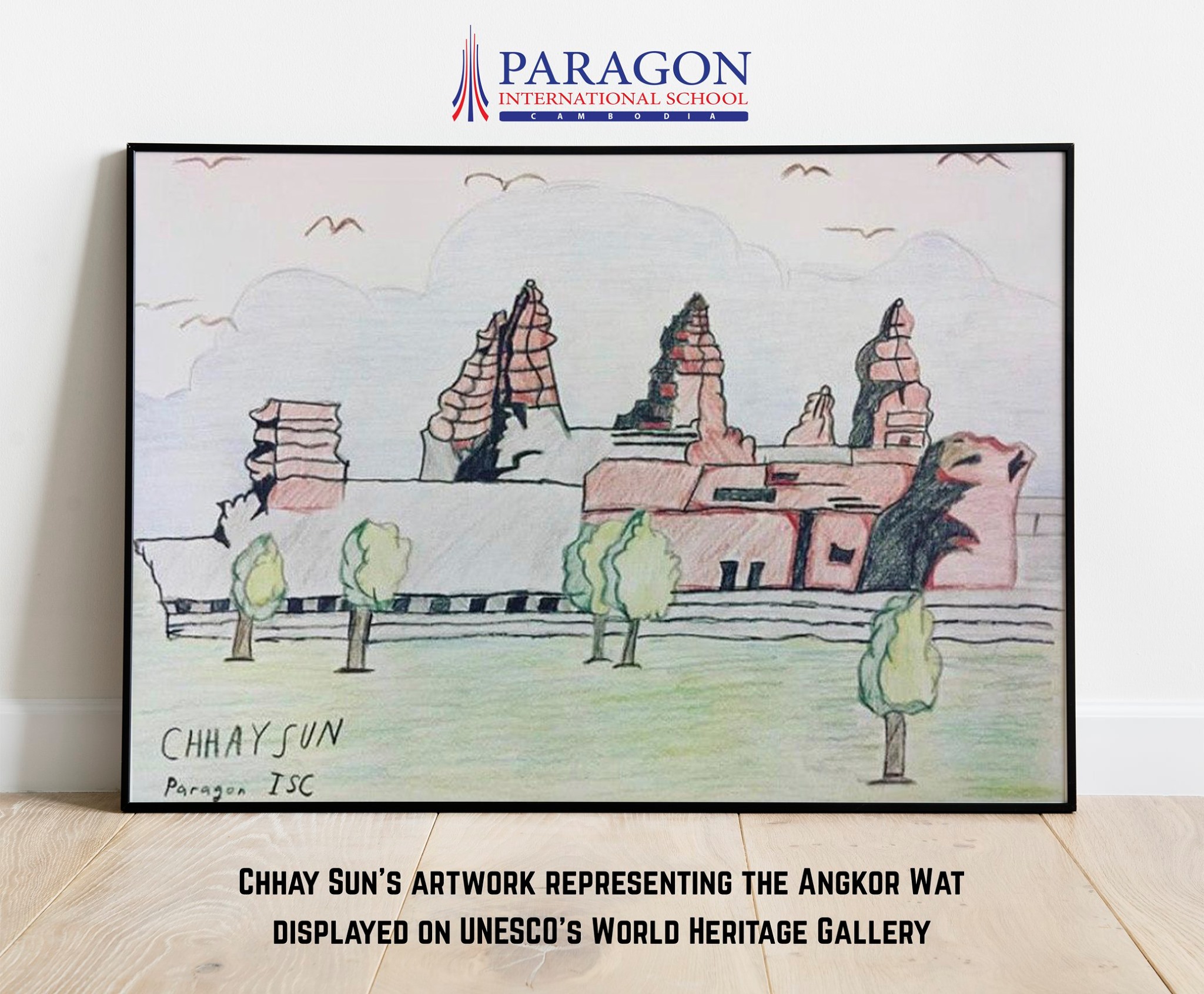 ជូនចំពោះមហាគ្រួសារផារ៉ាហ្គនជាទីគោរព
យើងខ្ញុំមានក្ដីរំភើបរីករាយ និងសូមប្រកាសថា ស្នាដៃគំនូររបស់សិស្សយើង ឈ្មោះ ស៊ុន ឆាយ ពីសាខាបឋមសិក្សា ត្រូវបានគេជ្រើសរើសឱ្យចូលរួមក្នុងកម្មវិធីតាំងពិព័រណ៍ស្នាដៃសិល្បៈករវ័យក្មេង (The Little Artists Exhibition)។ រូបគំនូរប្រាសាទអង្គរវត្តរបស់ ស៊ុន ឆាយ គឺកំពុងដាក់តាំងបង្ហាញនៅក្នុងវិចិត្រសាលបេតិកភ័ណ្ឌពិភពលោករបស់អង្គការយូនីស្កូ។
សូមអញ្ជើញពិនិត្យស្នាដៃគាត់ តាមរយៈតំណភ្ជាប់ខាងក្រោមនេះ ៖
http://whc.unesco.org/en/news/2115
 "
ស៊ុន ឆាយ បានចូលរួមជាមួយកុមារនៅជុំវិញពិភពលោក អាយុចាប់ពី ៦ ដល់ ១២ ឆ្នាំ ទៅតាមការអញ្ជើញចូលរួមដាក់តាំងបង្ហាញសា្នដៃគំនូររបស់ខ្លួន នៅក្នុងកម្មវិធីតាំងពិព័រណ៍ស្នាដៃសិល្បៈករវ័យក្មេង ដោយតម្រូវឱ្យពួកគាត់គូររូបបេតិកភ័ណ្ឌពិភពលោកដែលសំខាន់ចំពោះពួកគាត់ ដូចជាសម្បត្តិបេតិកភ័ណ្ឌនៅក្នុងសហគមន៍របស់ពួកគាត់ផ្ទាល់ ឬដែលពួកគាត់បានទៅទស្សនា ឬបេតិកភ័ណ្ឌផ្សេងៗទៀតដែលពួកគាត់បានឃើញក្នុងរសៀវភៅ រឿងកុន ឬកម្មវិធីទូរទស្សន៍នានា។ កម្មវិធីតាំងពិព័រណ៍ស្នាដៃសិល្បៈករវ័យក្មេងត្រូវបានរៀបចំឡើងដោយការិយាល័យទទួលបន្ទុកផ្នែកវប្បធម៌របស់អង្គការយូនីស្កូ ដើម្បីឆ្លើយតបនឹងកាលៈទេសៈដែលយើងត្រូវសំងំរក្សាសុវត្ថិភាពនៅផ្ទះ ដោយសារតែវិបត្តិវីរុសកូវីដ១៩។ កម្មវិធីនេះក៏ដើម្បីចូលរួមអបអរទិវាពិភពលោកនៃវប្បធម៌ចម្រុះដើម្បីការសន្ទនា និងការអភិវឌ្ឍ (World Day for Cultural Diversity for Dialogue and Development) ផងដែរ ដែលត្រូវរៀបចំឡើងនៅថ្ងៃទី២១ ខែឧសភា ជារៀងរាល់ឆ្នាំ។
សូមចូលរួមអបអរ ស៊ុន ឆាយ។ យើងពិតជាមានមោទនភាពចំពោះប្អូនណាស់!
Dear Paragon Community,
We are excited to announce that the artwork of one of our students from the Primary Campus, Chhay Sun, has been selected to be on display in the The Little Artists Exhibition. Chhay Sun's artwork representing the Angkor Wat can be viewed on UNESCO's World Heritage Gallery.
Click on the link below to be directed to the art exhibition:
http://whc.unesco.org/en/news/2115
Chhay Sun responded to the global invite to children around the world, between the ages of 6 and 12 years old for the Little Artists Exhibition to draw a UNESCO World Heritage site that is important to them. This artwork could be in their community, a memory from a family vacation, or a place they saw in a book, movie or TV show.
The Little Artists Exhibition is one of the several activities initiated by UNESCO's Culture Sector in response to the global lockdown due to the COVID-19 crisis.
The artworks are in celebration of World Day for Cultural Diversity for Dialogue and Development, which is held every year on 21st May
Congratulations Chhay Sun! We are very proud of you!
#
paragonisc
#
cambodia
????????
#
phnompenh
#
cis
#
accredited
#
abettertomorrow
#
shareourheritage
#
unesco
#
worldheritage
#
staysafe