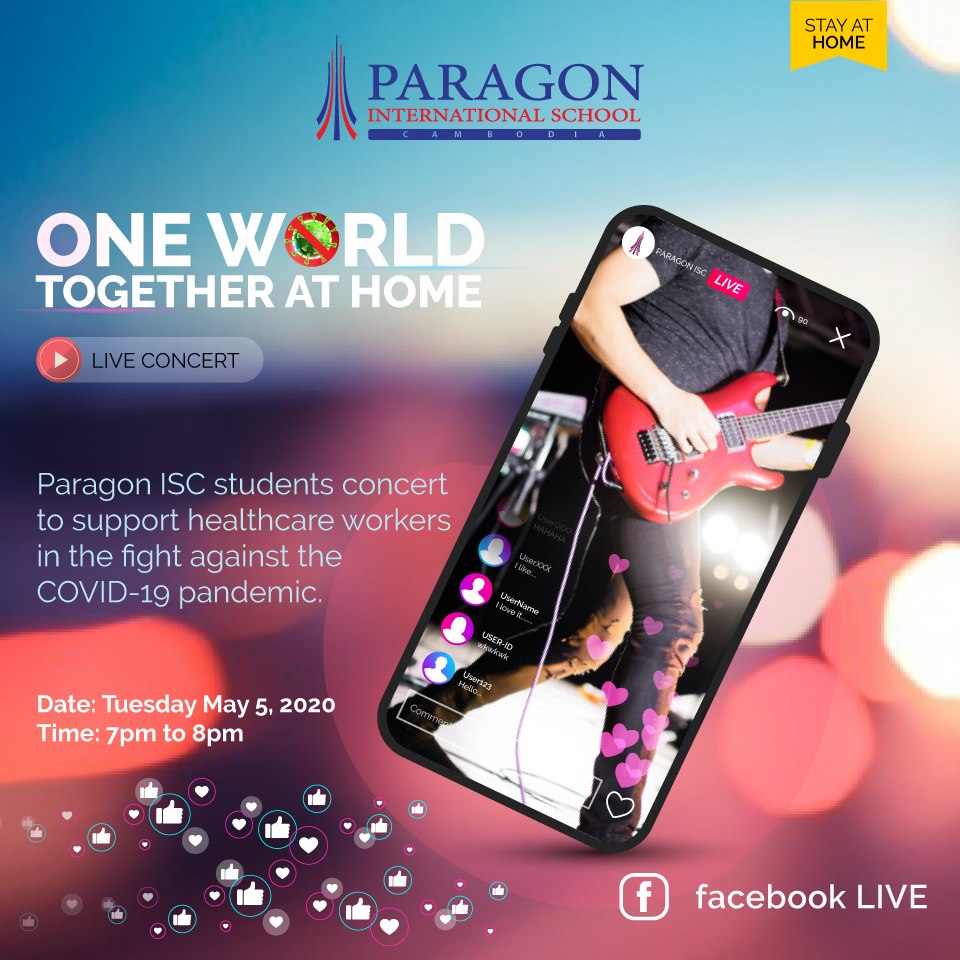 ខណៈពេលដែលពិភពលោកត្រូវសម្របទៅនឹងបរិបទថ្មី នៃការដាក់ឲ្យនៅដាច់ដោយឡែក ដោយសារការរីករាលដាលនៃវីរុសកូវីដ១៩ សិស្សានុសិស្ស និងអ្នកគ្រូ លោកគ្រូផ្នែកតន្រ្តី ពីសាខាវិទ្យាល័យរបស់យើង នឹងរៀបចំការប្រគំតន្រ្តីអនឡាញ ដើម្បីចែករំលែកភាពរីករាយ តាមរយៈការប្រគំតន្រ្តីផ្សាយផ្ទាល់ជាសកល ដើម្បីគាំទ្រដល់អាជ្ញាធរ បុគ្គលិកសុខាភិបាល និងអ្នកស្ម័គ្រចិត្តទាំងអស់នៅជុំវិញពិភពលោក ដែលកំពុងប្រយុទ្ធប្រឆាំងនឹងវីរុសកូវីដ១៩នេះ។
សូមចូលរួមទស្សនាទាំងអស់គ្នានៅថ្ងៃអង្គារ៍ ទី៥ ខែឧសភា ឆ្នាំ២០២០ វេលាម៉ោង ៧ យប់ នៅលើទំព័រហ្វេសប៊ុក របស់សាលារៀនអន្តរជាតិផារ៉ាហ្គន។
As the world adjusts to the new reality of life under self-quarantine in the midst of the pandemic, our Secondary Campus students together with their music teachers are taking the show online to share some musical joy during these trying times, as a part of the global live stream concerts, to support healthcare workers and those on frontlines in the fight against the pandemic around the world.
Please, join us on Tuesday, May 5, 2020, at 7 PM for a live stream concert on our ParagonISC Facebook page.
#
paragonisc
#
cambodia
????????
#
phnompenh
#
internationalschools
#
accredited
#
liveconsert
#
secondarycampus
#
thankyou
#
abettertomorrow
#
staysafe