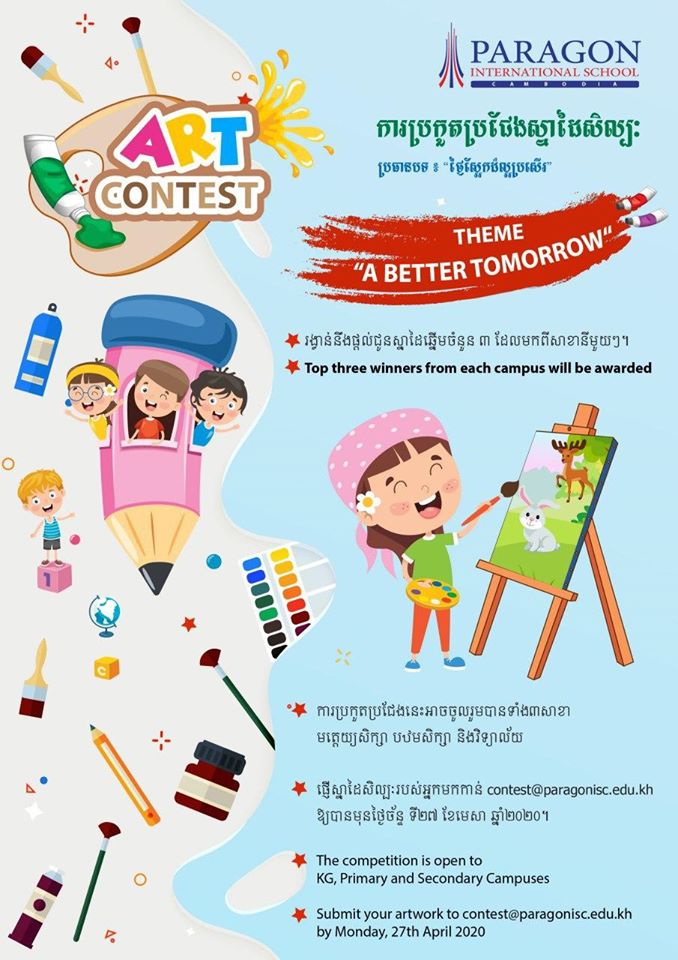 ការប្រកួតប្រជែងល្បងសមត្ថភាព!
យើងខ្ញុំរំភើប និងសូមប្រកាសការប្រកួតប្រជែងស្នាដៃសិល្បៈ!
ប្រធានបទ ៖ "ថ្ងៃស្អែកដ៏ល្អប្រសើរ"
នេះជាឱកាសដើម្បីប្រើជំនាញសិល្បៈរបស់អ្នក និងបង្កើតស្នាដៃដ៏អស្ចារ្យ ដើម្បីបង្ហាញអំពីការយល់ដឹងរបស់អ្នកអំពីប្រធានបទ "ថ្ងៃស្អែកដ៏ល្អប្រសើរ"។
ការប្រកួតប្រជែងនេះអាចចូលរួមបានទាំង៣សាខា។
ស្នាដៃទាំងអស់នឹងត្រូវវាយតម្លៃដោយគណៈគ្រប់គ្រង។
រង្វាន់នឹងផ្ដល់ជូនស្នាដៃឆ្នើមចំនួន ៣ ដែលមកពីសាខានីមួយៗ។
ជ័យលាភីនឹងប្រកាសនៅថ្ងៃទី៣០ ខែមេសា ឆ្នាំ២០២០ នៅលើបណ្ដាញសង្គម។
បញ្ជាក់ ៖ សិស្សម្នាក់អាចផ្ញើស្នាដៃចូលរួមបានតែមួយគត់។
ផ្ញើស្នាដៃសិល្បៈរបស់អ្នកមកកាន់ contest@paragonisc.edu.kh
ឱ្យបានមុនថ្ងៃចន្ទ ទី២៧ ខែមេសា ឆ្នាំ២០២០។
Challenge Time!
We are excited to announce an Art Challenge!
Theme: "A Better Tomorrow"
A chance to use your artistic skills to create a compelling work of art to illustrate your understanding of "A Better Tomorrow"
The competition is open to KG, Primary and Secondary Campuses
Artworks will be chosen from all three campuses and judged by the school administration team
Awards will be given to the winners of the top three artworks from each campus
Announcement of the winners will be made on 30th April 2020 on the school's social media sites
Note: Each student can only submit one entry
Submit your artwork to contest@paragonisc.edu.kh by Monday, 27th April 2020
#
paragonisc
#
cambodia
????????
#
phnompenh
#
internationalschools
#
councilofinternationalschools
#
accredited
#
onlinelearning
#
challenge
#
artcontest
#
abettertomorrow
#
staysafe