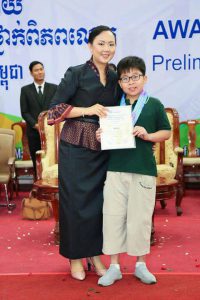 Paragon International School congratulates its students who gained medals at the World Mathematics Invitational Preliminary Round, which took place recently and was attended by pupils from the School's Primary and Secondary campuses.
Gold medal winners were: Mom Theanwin (Grade 12), Pov Eang (Grade 10), Nay Khatiyapich (Grade 8) and MengLaysunn (Grade 4).
Those who gained silver included: Ung Sopanha (Grade 8), Chheang Sokheivuth (Grade 7), Huot Simlim (Grade 7) and Pov Ou (Grade 6).
The following students all took bronze: Pov An (Grade 8), Lim Danicole (Grade 7), Kim Menghour (Grade 7), Seang Ratanakmearlea (Grade 6), Chhun Sovann (Grade 5) and Sarat Chhornsotheadavid (Grade 3).