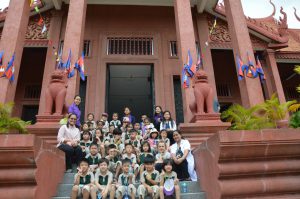 On Paragon International School's Kindergarten Campus students had recently enjoyed a week of activities and learning centred around the topic of 'local environment'.
Ensuring the campus' syllabus incorporates Khmer culture, history and traditions into its design is of vital importance; not only does it give students a greater understanding of days gone by and their ancestry, but due to Cambodia's rich and diverse heritage it also provides a wide range of educational themes and material of educational value.
The 'local environment' week was a great success with students really embracing the activities and lessons teachers had planned for them. It culminated in an opportunity for students to visit a local museum where the children were enthusiastic and excited about seeing some of the artefacts and other items they had been learning about.