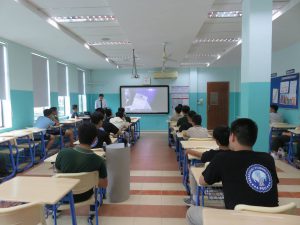 Class monitors and Student Union members from Paragon International School's Secondary Campus recently attended child protection awareness seminars given by the secondary and primary Welfare Coordinators.
The students were trained on child protection practices and procedures and introduced to the campus' updated child protection guidelines, and ways in which any issues surrounding the topics can be reported.
Paragon believes that a proactive approach to child protection increases awareness and helps to prevent abuse from taking place in society. The end goal of all such work is to make the world a safer and happier place for children everywhere.
Students who attended have been asked to talk about child protection and child rights with their friends and to distribute special child protection stickers to increase awareness within the school community.
As the school safeguarding motto goes', 'Safety is Everyone's Duty, and the words apply to all students, staff members and guests to the school.
The School continues its duties regarding the protection of children with a series of seminars for parents later this month.